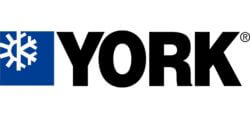 Investing in a YORK® home comfort systems means investing in a history of quality that began over 140 years ago. That history continues to inform the decisions we make today and helps ensure a focus on quality at every stage, with every product.
Founded in 1874, YORK® has been an industry leader since the beginning. A revolutionary YORK® "air washing" system installed in 1914 was the precursor to modern-day air conditioning. In 1924, the world's first air-conditioned office building used YORK® equipment. And today, YORK® products are heating and cooling some of the world's most iconic structures, including the Empire State Building, the English Chunnel, the U.S. Capitol Building and the Sydney Opera House.
We're proud to rep the York brand. If you have any questions regarding the York products we provide, please reach out.